Well I have never done a "link up." At least that's what I think its called? But one of the many blogs I stalk
Adventures of Newlyweds
does one so I thought I would join in the fun! Hopefully I am doing this right, here we go: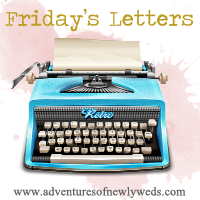 Dear Friday
, thank you for letting me get off work early today! I really needed some me time.
Dear
Jenna Marbles
, OMG I almost peed my shorts laughing at this video. Please do not watch if curse words offend you. I personally have a raunchy sense of humor sometimes and thought this was hilarious.
Dear New Joe's Jeans
that just arrived in the mailbox today. I heart you and how you make my tush look so much rounder than it actually is.
Dear anyone who is invited to a wedding ever
. 2 names on the invite means 2 people are invited. Your name "and guest" means 2 people are invited. Just your name means JUST YOU are invited. Open bar and crab cakes are expensive people and some wedding venues (like mine) only hold so many people. There is no room for that dude who you just met at the bar and asked to be your date. I am sorry lots of brides have to cut off the guests at people who are actually dating someone!
Dear Fiance and blog readers
, thank you for putting up with bridezilla rants like above:)
XO,
Sara